Jenny Diplacidi, Gothic Incest: Gender, Sexuality and Transgression. Reviewed by Brittany J. Barron.
Friday, June 5, 2020 - 18:49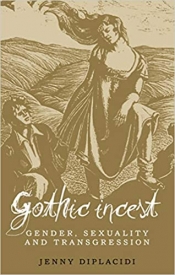 Brittany J. Barron
Florida State University
Jenny Diplacidi's comprehensive monograph, Gothic Incest: Gender, Sexuality and Transgression, focuses on the British Gothic's incest convention between 1764-1848 and traces its transgressions of traditional familial and gender roles that encourage "alternative sexualities and relationships" (280). In the past, scholars have characterized Gothic incest according to the division of the Male Gothic and Female Gothic traditions. This division often prevents us from seeing the intersections between the texts of male and female authors; accordingly, Diplacidi transcends this binary and employs a more collective term of the Gothic. Diplacidi positions herself in relation to current critical conversations involving Gothic studies, including George E. Haggerty's Queer Gothic (2006), Diane Wallace's and Andrew Smith's The Female Gothic: New Directions (2009), and Lorna Piatti-Farnell's New Directions in 21st Century Gothic: The Gothic Compass (2015). With an interdisciplinary approach, Diplacidi seeks to broaden our understanding of incest's function in the Gothic genre. She identifies examples of not only father-daughter, sibling, and uncle-niece incest, but also cousin and mother-son incest. Addressing a gap in research, Diplacidi employs recent scientific and social historical theories to complicate our perceptions of the term "incest" in Gothic texts and underscore how they influence our reading of a genre rife with fluctuating sexual identities and gender roles.
Diplacidi's book is a combination of theory and explication. Previous scholarship on representations of incest, Diplacidi observes, favors psychoanalytic (read: Freudian) and sociological readings. The influx of feminist criticism in the 1970s reinforced the narrative that incest is an act of "violent sexual aggression" (9), an abuse of power exercised by men. Diplacidi does not wish to ignore such narratives, but rather wishes to disrupt these threads of thought. These thoughts reduce the ways in which to read the incest convention, wherein authors—typically "women or homosexual men" (3)—employ the incest theme to subvert codes of conduct put in place by the patriarchal order. Viewing incest as simply a man's unwanted act of power dismisses that women are just as prone to commit incest and simultaneously promotes the erasure of female desire. Diplacidi therefore situates her analysis within a larger frame and applies social historicism, a hitherto overlooked lens. Theories of the Westermarck effect, women as gifts and objects of exchange, and Genetic Sexual Attraction (GSA) inform Diplacidi's study. Diplacidi defines GSA as "genetic similarities" which "are the often unconsciously desired qualities we search for in a mate" (88). We often think of incest as occurring between two people with a blood relationship, but with social historicism in mind, Diplacidi posits that it is often the long eighteenth century's adaptable family structure, wherein "foster, adopted and blood kin" inhabit a household, that threatens the nuclear family and hegemonic structures the most (14). To broaden our preconceived notions of incest, she draws upon historical, legal, anthropological, scientific, and sociological research. 
In an introduction, five chapters, and a coda, she revisits popular and often overlooked long-eighteenth-century texts, a scope which includes the seminal Radcliffean novels—the more discounted The Castles of Athlin and Dunbayne (1789) and the critically popular The Italian (1797)—to more obscure Gothic texts, such as Eleanor Sheath's The Orphan of the Rhine (1798). She additionally includes male authors Horace Walpole and Matthew Lewis. To structure her argument, she devotes a chapter to each incest relationship. The first chapter, "'Unimaginable sensations': father-daughter incest and the economics of exchange," covers examples of father-daughter incest and exposes its threat to heteronormative ideologies, precipitating "the formation of alternative structures of family, female agency and desire" (41). Diplacidi locates female agency in Mary Shelley's Matilda (1820), wherein the titular heroine's incestuous desire "enables her [. . .] escape from the traffic in women" (64). Women as objects of exchange similarly materializes in niece-uncle incest, which Diplacidi explores in "Uncles and nieces: thefts, violence and sexual threats." And, in the penultimate chapter, "Queer Mothers," a mother's queerness, in the form of her sexual aggressiveness, allows her to transgress her typically passive role (269). These chapters celebrate female characters' transgressions that allow them freedom from a patriarchal society that otherwise circumscribes their social, legal, and economic statuses. 
Arguably the most salient points and pertinent contribution to the field appear when Diplacidi brings genetics to the fore in the sibling ("'My more than sister': re-examining paradigms of sibling incest") and cousin ("More than just kissing: cousins and the changing status of family") chapters, respectively. Gothic texts predate such genetic discoveries such as GSA; however, the "pull of blood" is a predominant feature in these works (21). Diplacidi suggests that siblings, specifically brothers and sisters, represent the ideal relationship. Part of the attraction stems from them growing up together and sharing genetic similarities (88). Hitherto perceived as "terror convention," according to Diplacidi, the sibling relationship actually presents the "potential for equality" (91). This equality likewise exists within cousin incest. The range of cousins in the Gothic genre underpin anxiety around the numerous possibilities of family structures and females exercising agency by selecting their own husbands (195-6). Of course, in her monograph, Diplacidi could not cover the entire oeuvre of the Gothic. For instance, the incest that permeates Shelley's Frankenstein (1818), most explicit in the relationship between Victor and Elizabeth, is notably absent. In her coda, Diplacidi acknowledges that gaps remain in Gothic scholarship, especially the Romantic era's magazine fiction and its function within the canon. Furthermore, Diplacidi recognizes that as the genre evolves, its meanings and tropes evolve with it. It is thus essential to re-examine the original Gothic texts to understand its presence in the twentieth and twenty-first centuries.
Gothic Incest: Gender, Sexuality and Transgression is a much-needed addition to an ever-growing body of scholarship on the Gothic, from the feminist scholarship that burgeoned in the 1970s to the more recent scholarship that considers queer Gothic. Diplacidi makes apparent the importance of studying incest when she opens with epigraphs from Frances Burney and a review of Eliza Parsons's Castle of Wolfenbach (1793). These epigraphs illuminate the scathing receptions of incest-ridden texts. Burney, and likewise Coleridge, rebuffed Horace Walpole's play The Mysterious Mother (1768) for its depiction of mother-son incest. Given this frame, Diplacidi encourages her readers to approach the incest trope with an open mind. As she mentions in closing, "Gothic provides a safe space for its writers, readers and viewers to theorise and participate in alternative models and narratives of human existence" (281). Diplacidi looks beyond the moral implications therein and reflects upon not only the Gothic incest's critique of hegemony and heteronormativity, but also its ability to destabilize gender and sexuality ideologies.