ICR 2016 Panel: Jane Austen in the Dark. Reviewed by Talia Vestri Croan
Wednesday, March 29, 2017 - 21:54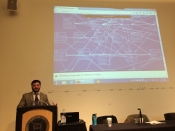 International Conference on Romanticism
Colorado Springs 2016
Panel: "Jane Austen in the Dark"
Moderator: Talia Vestri Croan (Boston University)
Catherine Engh (Graduate Center, CUNY), "Environmental Aesthetics and Infection in Sense and Sensibility"
Daniela Garofalo (University of Oklahoma), "Abandoned by Providence: Loss in Jane Austen's Persuasion"
Christopher Stampone (Southern Methodist University), "'Obliged to Yield': The Language of Patriarchy and the System of Slavery in Mansfield Park"
Review by Talia Vestri Croan (Boston University)
Friday's #ICR2016[SB1]  kicked off with "Jane Austen in the Dark," a wonderful early-morning panel acting as serendipitous prelude to the evening's keynote address by Devoney Looser, which, as we would come to find out, took us to some Dark Austen indeed. Here's a brief recap of these three stimulating papers:
Catherine Engh (@ceramicbathtub) opened the discussion with her paper on environmental aesthetics in Sense and Sensibility.
With Gilpin, Thomson, and Cowper in the background, Catherine considered how the poetic line itself embodies an aesthetic viewing activity. For Austen's Marianne Dashwood, aesthetic pleasure comes in the form of spying out of doors. When she attempts to penetrate Willoughby's character by gazing upon Combe Magna from a distance, for instance, Marianne experiences the combined pain and pleasure of these investigative fantasies. As Engh points out, Austen's narrator uses a pastiche of Marianne's favorite generic elements in this scene, and her inward fantasy of longing culminates in an intensely solitary encounter—the epitome of emotionally heightened sensibility through the gothic, picturesque, and other representative modes.
As forlorn and lovelorn figure (a trope found also in Thomson's landscapes), Marianne traverses through these scenes of aestheticized pain as a solitary wanderer. Her indulgence in such solitary episodes (Wordsworth ring a bell here, anyone?) doesn't lead to sublime ecstasy, however—in fact, it makes her physically sick (again: Wordsworth ring a bell here, anyone?).
According to Engh, Austen uses the landscape to imagine heartbreak. Marianne's illness from wandering in the wildest parts of Willoughby's estate reflects the terminology of medical textbooks. Deprived of her cognitive capacities during this spell, Marianne is reduced to animal spirits only, and her fear and uncertainty escalate along with her physical symptoms of sickness. The resulting loss of a unified sense of self—falling into pure animality, without mental reasoning—blows up into a full state of disease.
So, Engh ponders, why does this intense bout of sensibility lead to illness? Why, in other words, is Marianne punished for this explorative solitude?
At this point, Engh linked her aesthetic queries to a critique of colonialism and imperial expansion, an association that my pre-caffeinated mind didn't exactly follow. I imagine the string of associations went something like this: Marianne explores territory not her own; Marianne has an extreme bout of intense affective reaction; Marianne gets sick; thus, Marianne should not be trying to occupy, aesthetically or otherwise, spaces that do not belong to her. But I'll leave this most complicated portion of Catherine's presentation up to her next article to explain to us all.
Interestingly enough, our next two panelists took up similar themes on slavery, colonialism, and patriarchy—all three papers seemed to be preoccupied with these age-old complaints against the British monarchy, although from entirely new and fresh angles, which was exciting.
Daniela Garofalo (http://cas.ou.edu/daniela-garofalo) took us through Lacanian theory to explore Persuasion as Austen's response to capitalism and, in particular, the ways that capitalistic culture renders lack and loss. Ambivalent towards and critical of capitalism, as Garofalo has it, Austen positions her characters as denying or distancing themselves from it, enduring loss as a mode of personal failure.
Distinguishing between masculine and feminine processes of sexuation via Lacan, Garofalo discussed the acceptance of loss as rooted in the distinctly feminized half of the equation, and thus Austen's representation of loss becomes a loss of the masculine position, disabling her characters from accessing the male pleasures that compensate for loss, such as wealth, status, and prestige.
The male ethic depends upon return on investment, but this is distinctly a system absent from Austen's novel, in which there is, instead, a paramount inability to experience and access loss. A male character, Garofalo explains, needs a woman to love him in return—an Other who provides a fantasy of emotional protection—and becomes particularly attached to the lack of that figure.
Garofalo highlighted the episode in which Anne Elliot astutely observes that men always have authority over the pen[is], both literally and metaphorically: "Men have had every advantage of us in telling their own story. Education has been theirs in so much higher a degree; the pen has been in their hands. I will not allow books to prove anything."
Anne, however, does not take up this phallic pen, either as object or as instrument. She embodies instead the feminine position of subjectivity that, like in Engh's reading of Marianne, situates itself in lack and in loss of agency.
Christopher Stampone (@CMStampone) was, like his fellow panelists, interested in questions of imperial slavery and capitalistic oppression, though his paper brought us from the lands of landscape aesthetics and psychoanalytic theory into computerized analysis and digital humanities. Here's a snapshot, courtesy of Devoney Looser (@devoneylooser):
Devoney tweeted: "@CMStampone uses Twine on #janeausten Mansfield Park focusing on duty & gratitude, patriarchy and slavery."
These were indeed the key terms of Stampone's talk: gratitude, patriarchy, slavery, along with duty, obligation, binding, and chains. In essence, Stampone applied a computer mapping software named Twine to analyze various scenes of Mansfield Park and break down repeated terms. This graphing allowed him to pair characters with direct words in the novel, then extract definitional meanings from those words, and then seek out associations with the terms of slavery. His project attempts to uncover ideological links between Austen's language and the language of captivity, slavery, and oppression through a kind of word-association graphing of connotative meanings.
The word-family of duty, obligation, and gratitude produced definitional links to words like bound and captivity, and thus to slavery. Stampone brought out scenes in the novel where characters such as Sir Thomas utilize linguistic restrictions to parallel slavery, such as when he reproves Fanny for rejecting her duty of accepting a proposal, and her ingratitude is bound, through word association, to expectations of subjection and submission. She is, then, figured as a slave to be sold on the marriage market.     
While I'm not sure that Christopher's talk revealed any specific conceptual associations that we haven't yet understood to stem from Mansfield Park (marriage = slavery; Sir Thomas = tool of imperial capitalism), his use of visual mapping provides a new avenue by which to reach, if still ideologically similar, then at least more nuanced and quantifiable interpretations. 
After the talks wrapped up, an exciting Q&A session followed. Fuson Wang (@FusonWang) queried whether Marianne's illness might in fact be a kind of inoculation necessary to predate her second attachment to Brandon, and Devoney Looser wondered how Lacanian readings might account for other characters like Mrs. Norris who act as marital or slavery overseers.
These three panelists revealed that new ways of analyzing Austen can in fact be found, even two hundred years later. Interestingly, though, the analytical objectives of these games of association—whether through landscape aesthetics, psychoanalytic theory, or computer mapping—do still bring us to some familiar territory: capitalism, slavery, patriarchy. The way they get there, however, is entirely new and invigora
 [SB1]Include Twitter hyperlink