Anna Mercer, The Collaborative Literary Relationship of Percy Bysshe Shelley and Mary Wollstonecraft Shelley. Interviewed by Mathelinda Nabugodi.
Friday, June 5, 2020 - 19:24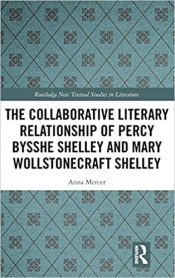 A Q & A with Anna Mercer
Cardiff University and Keats House, Hampstead
By Mathelinda Nabugodi
University of Cambridge
Mathelinda Nabugodi: The book studies the Shelleys' mutual involvement with one another's literary writing through an examination of surviving manuscripts, evidence provided by letters and journals as well as recent editorial scholarship, especially Charles E. Robinson's seminal work on the Frankenstein drafts. It centres on a concept of 'collaborative literary relationship' that encompasses giving feedback on drafts (Frankenstein), discussing ideas (The Cenci), Mary Shelley's posthumous editions of Percy Shelley's works, and even her 'continued […] inner conversation' with her husband manifested in 'his presence in the novels' she wrote many years after his death (p. 170). Is there any aspect of the Shelleys' 'literary' lives that you would not classify as part of their collaboration?
Anna Mercer: Yes, as there are significant moments in the Shelleys' shared lives that show an alienation between the couple with regards to creative collaboration: Epipsychidion is an important example. Yet the critical history of the Shelleys, as my book argues, has been corrupted by the separation of the two authors and, for some, a determination to portray them as antagonists. In more recent scholarship (there are several sources that I have been inspired and influenced by) we see the Shelleys celebrated both as individuals and as a literary couple. However, my book is the first to offer a full-length study of the Shelleys' literary relationship. I believe reviewing all aspects of their writing as potential collaboration is now essential: a good working definition of collaboration in this context encompasses the wide variety of ways of reading the Shelleys together that have not always been considered or valued. I do not suggest that, for example, Percy Bysshe Shelley's editing of the Frankenstein manuscript is identical in its context, creative input or outcomes, to Mary Shelley's copying of one of his poems. Nonetheless, Mary Shelley cannot be considered simply a passive amanuensis. In her essay '1816 in the manuscripts of Lord Byron and Mary Shelley' (Keats-Shelley Journal, 66 (2017)), Jane Stabler has discussed 'the touching of minds on paper – or what the Shelleys might have called "fast influencings" ['Mont Blanc', l. 38]', as something that 'illuminates the creative turmoil of Mary Shelley's work on Byron's manuscripts'. Stabler's reading indicates a sense of collective understanding that Mary Shelley draws on in her work as amanuensis, and this understanding can infiltrate several aspects of the Shelleys' creative activities at once. We cannot always judge such a relationship in terms of its equality, but we are best not to fall into the error of considering the exchange of ideas and support one-sided. It is both useful and interesting that the Shelleys' work can now be read as collective, and by expanding and interrogating what 'collaboration' means we will ensure further progress in our understanding of their works and lives. 
MN: I want to expand on your suggestion to consider Mary Shelley's editorial work as posthumous collaboration. Does this imply that we should regard editing in general as a form of collaboration insofar as the editor is always finalising a text for publication? 
AM: I'm really pleased that my work has provided new questions with regards to editing, a subject which fascinates me. Jack Stillinger's seminal work Multiple Authorship and the Myth of the Solitary Genius (1991) cites 'Mary Shelley's editing of her husband's posthumous poems' as one of the 'instances of unacknowledged multiple authorship', a suggestion that Jeremy Davies picks up and expands upon in his 'The Shelleys and the Art of Suffering' (Journal for Eighteenth Century Studies, 34 (2011)). The fragmentary nature of Percy Shelley's corpus allows Mary to construct a 'complete' Shelley, and interestingly, this editing is one of the most 'accepted' forms of her collaboration with her husband, although her work on his writings when he was still alive should also be valued. Literary studies are full of similar stories where editing is dependent (to varying extents) on a pre-existing emotional and personal relationship. I think there is strong evidence that Mary, knowing Percy Shelley intimately, had the capacity to make highly well-informed suppositions with regards to developing Percy Shelley's corpus into a 'complete' text.
MN: Together with Nora Crook and Bysshe Inigo Coffey, you are preparing an edition of the Library of Congress notebook (MSS. 13,290), the only extant notebook containing Percy Bysshe Shelley's hand that has not yet been published in facsimile. I am fascinated by manuscripts as physical objects and wondered if you can say something about the materiality of this manuscript?
AM: The Library of Congress notebook is a small and heavily worn item, and perhaps one of the fascinating mysteries about the text is whether it was used during the Shelleys' travels in Europe or only when they were more settled in Marlow (discussed in my book on p. 45). I share your enthusiasm for the objects as objects, but one must be careful with regards to understanding their power, and what it is they actually convey. The emotions that we as scholars feel when presented with the original document are necessarily sentimental. In my work with Keats House Museum, I am thinking about the palpable significance for literary legacy that surviving manuscripts and literary objects provide (Nicola Watson's The Author's Effects is very revealing on the subject). When these objects are available on display in public spaces, they do become powerful, and they alter the viewer's relationship to the author because of their connection to the original inscription of the words, not just the words themselves. 
MN: You use Timothy Morton's phrase 'shared intellectual climate' to describe the Shelleys' relationship (p. 3), but I got the impression that you were quite careful to edit Claire Clairmont out of this climate. Would you like to say a bit more about Claire Clairmont's place in the Shelleys' literary collaboration?
AM: Claire is such a fascinating artistic and intellectual figure and I felt her presence when delving into the Shelleys' day-to-day activities, creative and otherwise. The book necessarily concentrates on its mission which is to bring together research enabling a new way of understanding two authors: Mary Shelley and Percy Shelley. Claire indeed remains understudied, and I could not do her justice in this book (p. 31). My future research will look at several figures including the Shelleys and Claire Clairmont, John Keats, and others in London, further exploring Romantic interaction and creative circles. I have also recently been looking at the Clairmont Correspondence in relation to evaluating the Shelley-related objects in the Keats House collection (including Percy Shelley's inkstand, also used by Claire). I do touch on the idea of the 'Geneva circle' as including Claire and John Polidori (pp. 30-31): a time that I argue may have been the 'peak' in the Shelleys' collaborative activities.