Page 6
The Hours of Peace [1] 
Stay hours of peace! awhile delay,
Awhile with grateful Linda stay,
And hear her yet contented say
Stay hours of peace!
What tho' no more the midnight ball
5
Lures me to answer Folly's call,
I shun well-pleas'd th'illumin'd hall
For hours of peace.
For you I gladly would forego,
The splendid circle's idle shew,
10
Nor sigh for more than you bestow
Dear hours of peace.
What hath the gay, the busy earth
In all its scenes of noisy mirth,
More sweet than thee, my social hearth
15
In hours of peace?
A Mother's partial, tender smile,
May sure your rapid flight beguile,
And woo your stay a little while
The young Anacreon
 [2]
too shall sing,
And as he wakes the magic string,
Charm'd by his notes on hov'ring wing
Stay hours of peace!
Page 7
No power hath here the wintry gloom,
25
The Teian rose
 [3]
shall sweetly bloom,
And shed a graceful, soft perfume
O'er hours of peace.
The laugh of sportive innocence,
The look of bright intelligence,
30
Shall bless the hours of taste and sense
The hours of peace
No stern, reproving glance ye meet,
No look but breathes affection sweet,
Then speed not hence your feathery feet
35
Blest hours of peace!
What charms these white-wing'd hours can stay?
Alas, while thus I idly pray,
E'en now how swift you haste away
Like some capricious beauty, coy,
When most persuasion we employ,
Most swift you fly the offer'd joy,
Oh hours of peace!
But time shall ne'er your charms devour,
45
For memory still with soothing power,
Shall number o'er each happy hour,
The hours of peace.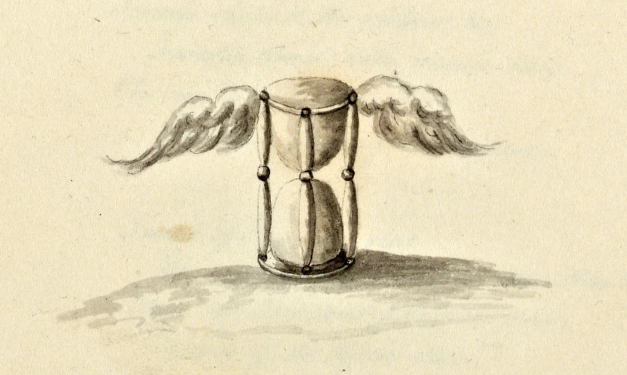 Notes
[1] EDITOR'S NOTE: "The Hours of Peace" does not appear in Psyche, with Other Poems or Mary and is undated in Verses but was probably written during the late 1790s or early 1800s. Caroline Hamilton includes a copy in NLI MS 4800 (the source text for Collected Poems and Journals) between two poems dated 1802: "To ----. 1802" and "Verses Written at the Commencement of Spring. 1802." Here, as in the preceding poem "The Kiss," Tighe refers to herself by her coterie name "Linda" and invokes Thomas Moore as "Anacreon." BACK
[2] EDITOR'S NOTE: Anacreon (582 BC - 485 BC) was a Greek lyric poet (born at Teos) famous for his drinking and love poems; Thomas Moore became known as "Anacreon" for his Odes of Anacreon (1800) and his sensual songs. BACK
[3] EDITOR'S NOTE: Teian rose refers to Anacreon (known as the Teian poet) and his famous ode on the healing scent of the rose. BACK