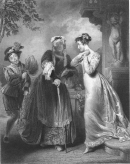 Sonia Hofkosh makes the following comment upon the engraving:
"aristocracy stands revealed as an artificial paradise in the person of the elaborately draped, shaded figure of "the old high born hag" whose walking stick, held in front of her as a sign of her masculinized authority, foregrounds the picture. Centering the opposition between this bloated, enshadowed figure and the clear, light form of the beautiful Bertha, the walking stick both blocks Bertha's path and, visually, reinforces the true contour of her body, outlined through the folds of her dress as she gracefully moves down the stair. The engraving highlights this opposition in order to reveal Bertha's beauty in its true feminine form and, indeed, as the feminine form of the "honest" truth itself." (211)
A full version of Bertha (179 ko), painted by H. Brigg and engraved by F. Bacon, is available, as well as a half size version (102 ko).