The Political House that Jack Built
Introduction and Contents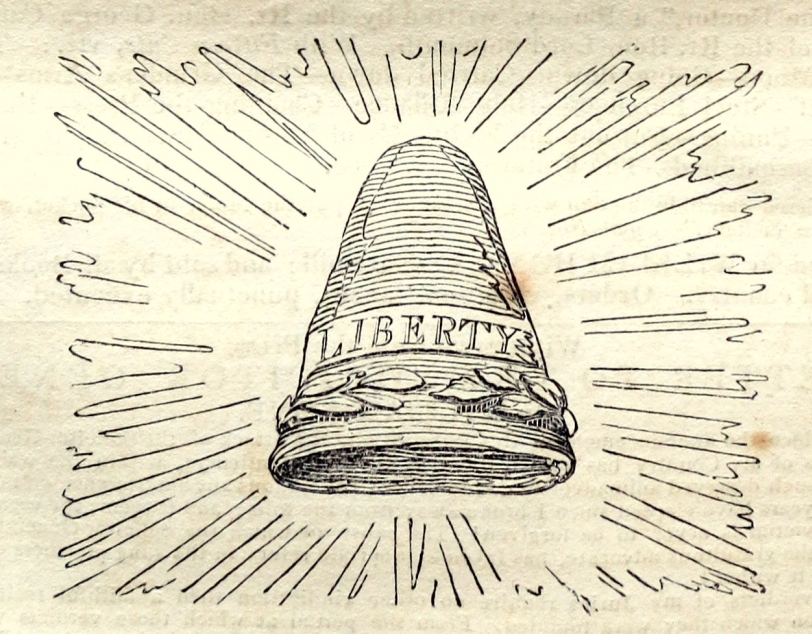 Introductory Note: Few works of romantic-era literature are more appropriate for internet publication than William Hone's The Political House that Jack Built. When first published in early December of 1819, the work was something of a multi-media event. By combining his parodic doggerel verse with George Cruikshank's brilliant woodcuts and the epigraph quotations from Cowper's The Task, Hone was able to generate an ironic complexity that far exceeds the mere sum of the assembled parts. The Political House, in fact, became a kind of satirical mosaic that, during an especially tense historical moment, proved to be an extremely effective instrument in the contemporary movements for the protection of a free press and for a more general political reform. Some measure of the pamphlet's impact can be seen in the sales figures--probably about 100,000 copies sold between late 1819 and mid-1821.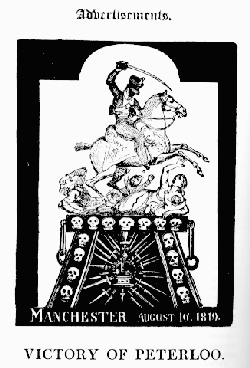 The Political House appeared during a particularly divided and divisive period of English social and political history. Throughout the later months of 1819, public debate over the "Peterloo" massacre of 16 August continued at a high pitch, and a special session of Parliament had just begun to pass (on 29 November) the draconian "Six Acts" in an attempt to stifle the stream of anti-government rhetoric issuing from an enraged radical press. (See, for example, Cruikshank's famous Peterloo "monument" reproduced at right.) Hone was in a unique position in the resultant struggle for press freedom. Just two years earlier, he had succeeded almost single-handedly in humiliating the Attorney General by winning Not Guilty verdicts in three consecutive trials on ex officio charges of blasphemous and seditious libel. The acquittals earned Hone a de facto immunity from further libel prosecution and thus enabled him--perhaps alone among contemporary radical writers and publishers--to produce this cheeky anti-government squib.
The text contained in the various files that make up this electronic archive comes from the forty-fourth edition of the work which was most likely printed early in 1820. Comparison with several additional copies has revealed no significant differences in the verse text. Indeed, since the Cruikshank images are printed using a durable woodblock technique, it seems likely that Hone's numerous "editions" were in fact reprintings of the same plates, though there are some slight alterations of fonts and formats in the title and dedication pages.
The archive itself is divided into several different files:
The Front Matter file contains transcriptions of the title page, the epigraph from Cowper's The Task, and the mock dedication to "Dr. Slop."

The Text file contains a complete transcription of Hone's verse text along with clickable thumbnail images of Cruikshank's engravings.

The Clerical Magistrate file contains this poem--a kind of coda to The Political House that Hone also issued as a separate poem.

In addition, the full text of the pamphlet (44th ed., as collected and bound in Hone's 1827 Facetiae and Miscellanies) is available in a series of facsimile images. Readers who wish to examine the pamphlet in this form may wish to begin with the title page image and then follow the appropriate links. The transcription files listed above are crosslinked to these facsimile images. The images themselves average about 70 KB each.
Also included in this archive is a more complete contents page. For more information on Hone, including an extensive annotated bibliography of his publications and a handlist of recent criticism, readers are encouraged to consult the William Hone Homepage, which link will open in a separately maintained archive.
I fully expect that this hypertext edition will continue to grow and evolve, perhaps to include other Hone-Cruikshank squibs, bibliographical descriptions of the numerous responses and imitations the Political House elicited, contemporary reviews of Hone's writing and publishing, links to historical materials about early nineteenth-century radicalism in general and Peterloo in particular, and so forth.  I welcome any comments and suggestions that will help me to make The Political House that Jack Built a useful (and entertaining) scholarly tool.
---
January 1998,
Kyle Grimes
, University of Alabama at Birmingham